Verizon debunks claim it doctored rural coverage maps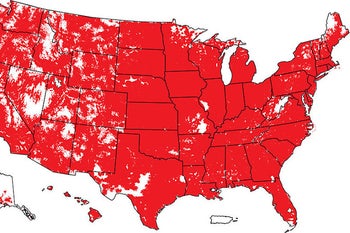 Back in the spring, the FCC allocated no less than $435 million a year in the form of subsidies for improving LTE coverage in rural areas, and it seems that everybody is now scrambling for a piece of that sweet pie.
That's why Verizon, whose rural coverage is its pride and joy, as it scores consistently above other carriers in that respect in various tests, was pretty miffed to learn that someone says it's cooking the
books
coverage maps. That someone is a coalition of consultants who base their claims on testing done by a subsidized local carrier which has a vested interest to prove that Verizon is not all that it's cracked up to be, and the government money should keep flowing to Panhandle Telecommunication Systems, a rural carrier in Oklahoma.
So far, it's gained $40 million from the government program, but it has to keep proving that nobody is providing better coverage in the area it operates to keep getting subsidies. On the consultants' filing with the FCC which states that "
Verizon's claimed 4G LTE coverage is grossly overstated and not supported by rational RF engineering practices
," Verizon replied with the following:
In a recent letter, consultants for the Rural Wireless Association (RWA) assert that Verizon's Mobility Fund coverage map overstates Verizon's coverage in the Oklahoma Panhandle. The RWA consultants' assertion is unfounded. The Verizon Mobility Fund coverage map complies in all respects with the Commission's mapping specifications and with industry best practices for propagation modeling.
Like many RWA members, PTSI is a 'subsidized carrier,' i.e., a carrier that receives support from the Commission's legacy universal service program. PTSI receives $184,000 per month from the legacy universal service program or about $2.2 million per year. In total, PTSI has received almost $40 million in universal service support since it became an eligible telecommunications carrier in 2004. Because Verizon's Mobility Fund coverage map shows that Verizon (an unsubsidized carrier) covers much of PTSI's territory, PTSI faces the prospect of losing universal service support in many areas. Under the Mobility Fund rules, areas served by an unsubsidized carrier will not be eligible for the Mobility Fund auction and PTSI will lose its legacy support in those areas after a two-year phase out.
Burn. After all, Verizon is an unsubsidized carrier, and if it blankets an area with coverage according to the FCC specs for speed and latency, it will prevent any local network that counts on the government subsidies to acquire that funding. Or, as Verizon puts it, "
the PTSI consultants' coverage map is also flawed because it does not comply with the
Commission's specifications for Mobility Fund maps, i.e., 80 percent cell edge probability and 30 percent cell loading factor
." Word on the loading factor.