Verizon quietly releases the Samsung Gusto 2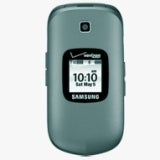 Last month, Verizon
announced
that the new
Samsung Gusto 2
would be released in the coming weeks and
would be
sold for $79.99
, after a $50 mail-in-rebate with a 2-year contract.
Without any fanfare or eye-catching TV commercials, the Samsung Gusto 2
can now be yours starting today
. Features of this moderately priced flip-phone include a 1.3MP camera, shortcut key, 2" 128x160
pixel
internal display, 1" 96x96 pixel external display, Bluetooth
2.1
, standard assortment of Verizon apps (VZNavigator, Verizon Tones, Mobile E-Mail), and comes with a 1000 mAh battery rated at 7 hours of talk time, or 14 days of standby time on a full charge. There is also something new called
Fake Call
, which allows users to set up a pseudo-call to help them escape unwanted social situations.
However, there are two features that we noticed are not present on the Gusto 2 - a microSD memory card slot and 3G EVDO (only 1X data is on the device). Though the original
Gusto
lacked those as well. Still, for $79 it would be nice if those were included, though we understand that they wanted to keep costs down.
Is anyone planing on buying the Samsung Gusto 2? Let us know in the comment section below.
source:
Verizon Wireless