Verizon puts Storm 9530 and other BlackBerry phones on End of Life list
This article contains unofficial information.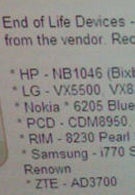 Crackberry has obtained a screenshot of Verizon's computer system which shows that the carrier has placed a number of BlackBerry handsets on its "End of Life" list. The vendors of the phones on that list are expected to no longer ship to Big Red any more units of a specific model. According to the list, the original BlackBerry Storm 9530 is now considered "Dead". We
reported
the other day that Verizon was cutting back or canceling Storm orders. As far as the Storm2 is concerned, there is no word that the operator had placed that model on the "End of Life" list.
Other RIM models on the list include the Pearl Flip 8230, the Curve 8330 and the 8830 in Silver. Other deceased models are the Samsung i770 Saga in Blue, the i910 Omnia, U490 Trance in Red, U650 Sway and the U810 Renown. Nokia models that have crossed over are the 6205 in Blue and the Intrigue in Silver or Pink. LG models that moved toward the light are the VX5500, VX8360 and the VX8560. Let's have a moment of silence, please.
source:
Crackberry