Storm over: Verizon to stop selling BlackBerry's touchscreen handset?
25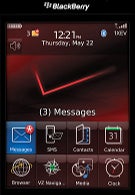 Wall Street is buzzing this morning over talk that Verizon has canceled or cut orders with RIM for the BlackBerry Storm. The report comes from The Street which notes that word of the order cancellation for the Storm is coming from Wall Street analysts. The original version of the phone was launched with quite a buzz as BlackBerry fans were expecting the first touchscreen 'Berry to be as good as-if not better than-the iPhone. Instead, what they got was a device that was buggy with an OS that was not ready for prime time. Still, the first-gen Storm sold very well for Verizon and with updates sent out, and the inclusion of the BlackBerry 5.0 OS, the Storm was the ugly duckling that turned into a swan. Once the new 'Berry operating system was added, the Storm became the phone it should have been at launch. The next generation BlackBerry Storm2 improved on the SurePress clickable screen but the browser, while improved greatly from earlier BlackBerry devices, was still providing surfing experiences nowhere near what was available on other smartphones. Even
showing off
a new WebKit based browser at the MWC could not help sales. One major problem with the Storm2 was that it happen to launch around the same time that Verizon brought out its first two Android handsets. The heavily advertised Motorola DROID became Big Red's flagship model, taking that title away from the Storm. Now, it looks like with the cancellation of orders for the Storm, Verizon is cutting ties to the touchscreen BlackBerry model that it once had so much hope for. BlackBerry Storm 2008-2010 R.I.P. According to the The Street, Verizon is planning on offering a couple of new BlackBerry models including one that will be equipped with RIM's new web-centric, app friendly OS. RIM has declined to comment on the report while Verizon has not yet replied.
RIM BlackBerry Storm2 9550 Specifications
|
Review
source:
TheStreet