Verizon places the Pre Plus, Storm2, Curve 8530, & more on the chopping block
This article contains unofficial information.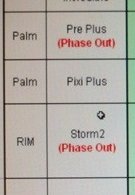 All handsets have to face the realization that the good times have to end some day, where they eventually reach the end of the line for their shelf life – thus being placed on the cut list. For a few Verizon handsets, the timing is but of course fitting, especially when we head into the busy fall season and eventually to the all important holiday schedule. Based on a leaked document, Verizon will "phase out" the Palm Pre Plus, BlackBerry Storm2 9550, and BlackBerry Curve 8530. In addition, they're also getting rid of a couple of netbooks, a USB broadband modem, and a Mi-Fi – the latter of which is speculated to be replaced with
ZTE's Fivespot device
. All in all, we'd imagine that Big Red would aggressively price these devices to make sure they clear all of their stock in anticipation for newer models to replace them. So if you're good enough, you can potentially talk your way into getting a great deal with any of the devices mentioned that are being phased out.
BlackBerry Curve 8530 Specifications
|
Review
BlackBerry Storm2 9550 Specifications
|
Review
Palm Pre Plus Specifications
|
Review
source:
Engadget