Verizon outage affecting many subscribers in the U.S.
8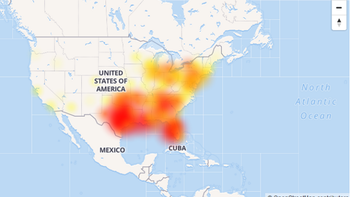 If you are a Verizon customer living in the U.S., you might be having problems making a call or connecting to the internet with your mobile phone. Since 7:50am EDT this morning, the nation's largest carrier has experienced outages on its network. According to DownDetector.com, the number of complaints it received about Verizon peaked mid-morning and has slowly been coming down.
A live outage map (see image at the top of this article) shows connectivity problems are the worst in Florida and Texas with problems seen along the East Coast, reaching into Tennessee, Kentucky, Indiana and Ohio. Scattered outages are seen in other parts of the country. Specific cities where the latest complaints are coming in from include:
Houston.
New York.
Dallas.
Austin.
Washington.
Oklahoma City.
Georgetown.
Brooklyn.
Tampa.
Atlanta.
57% of the complaints reported to DownDetector were about problems Big Red subscribers have had making and receiving calls over the carrier's network, 30% said that they could not access the internet on their mobile device, and 11% stated that their Verizon landline internet connection is down.
Once we see that Verizon's network is all clear again, we will update this story.