Verizon offers BOGO for DROID and DROID ERIS
This article contains unofficial information.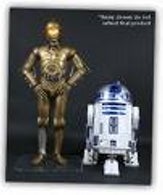 According to the Phandroid web site, one of the guys there got a call from Verizon to tell him about a BOGO deal that the corporate stores are offering on the DROID and DROID ERIS. And the beauty of the deal is, since it runs from Friday through Monday, those who bought on launch date will have until Friday to pick up the free Android device since it will be within 30 days of the original purchase. The catch? You have to open a brand new line for the second device. If you have a line that is out of contract you can cancel it and open a new one. Or, you can just open another line. Either way, you will have to sign for another 2 year contract. Overall, it is a great deal if you needed another line anyway. And for Verizon, it's a great way to jack up sales totals before the end of the quarter. Imagine, two DROIDS for the price of one. That deal isn't even offered on Tattoine.
Motorola DROID Specifications
|
Review
HTC DROID ERIS Specifications
|
Review
source:
Phandroid