Verizon leaked MAP memo suggests new high-end Android models coming soon
11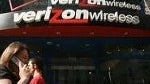 Verizon has had some MAP memos leak in the past. These notices tell resellers the lowest price that Verizon will allow third party retailers to sell certain handsets for. In return for following the MAP prices,
Big Red forks over some marketing money to the retailer
. This is done to keep pricing on a product fairly uniform and also to prevent a reseller from "cheapening" a device by offering it at a ridiculously low price. It doesn't apply in all situations, of course, as we all have seen ads for fairly current phones being offered at a huge discount.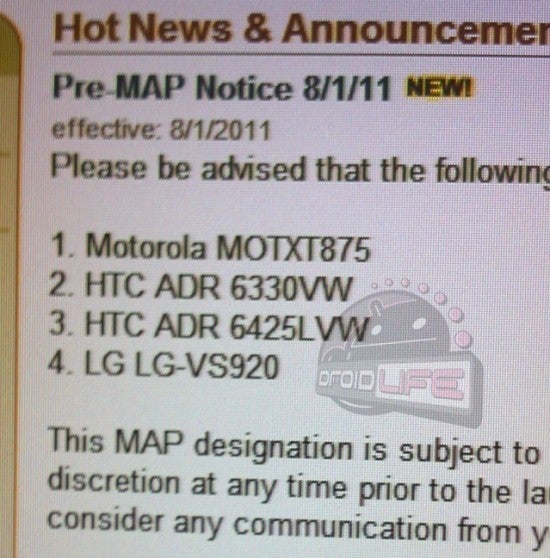 Verizon's latest MAP notice gives us info on two high-end devices
The story here actually has nothing to do with pricing. It has to do with the handsets that Big Red has included on its latest memo, dated August 1st. The first model listed on the memo is the Motorola MOTXT875 which is ...ta da...the Motorola DROID Bionic. The third model (we will return to number 2 shortly) is one that is
beginning to garner great interest
, the HTC 6425LVW known as the HTC Vigor. This model is said to have a high-resolution 720 x 1280 screen, Android 2.3.4, a 1.5GHz processor and an Adreno 220 GPU. A 6MP camera is on the back. Just when you thought you were ready to push the button on the Motorola DROID Bionic or the Samsung Galaxy S II, here comes this
Superphone from HTC
.
The other two phones on the list are the LG-VS930, possibly a sequel to the recently launched LG Revolution, and the HTC ADR 6330 which might be that silver colored variant of the HTC Droid Incredible 2 that we
reported
on just the other day.
Obviously, the Motorola DROID Bionic and the HTC Vigor are the big news here. And the $64 question is whether or not those waiting patiently and not so patiently for Motorola's mythical device will keep their update in their pocket for a little longer just to see what the HTC Vigor brings to the table. And what if the HTC device drops before the DROID Bionic does? If the Vigor does pack those specs, it is
going to be hard to turn that down
.
source:
DroidLife