Verizon iPhone 5 is unlocked for use on GSM carriers
13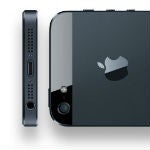 Today marks the official launch of the Apple iPhone 5, but the
unlocked version
of the phone isn't expected to be made available for at least a few weeks, but it turns out that there's an easy way to get an unlocked iPhone 5 from Verizon. A few users have confirmed that the Verizon model of Apple's new smartphone is unlocked and can be used on any GSM network.
This means that if you want (and Verizon will let you), you can buy an iPhone 5 at full retail from Verizon and just pop in a nano-SIM for your carrier of choice. Verizon's website lists the full retail prices at $649 for the 16GB model, $749 for 32GB, and $849 for 64GB. So, if you're desperate enough to want to drop down that kind of cash, it's on you.
Of course, keep in mind that LTE will not work on just any carrier, it would have to be a carrier that uses the same frequencies as Verizon, which means it wouldn't work on AT&T. And, while this would work for T-Mobile customers, as always you won't get 3G speeds unless T-Mo has lit up the 1900MHz spectrum in your area. So, you may want to
check the unofficial map
before trying that.
It's unclear just yet if this is the case with other iPhone 5 models or it is specific to Verizon, but we'll update you when we know for sure.