Verizon has a "Square" deal for customers
7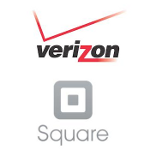 Square
might be exactly what you're looking for. Many of you have probably already seen Square in action, or have heard about it. In conjunction with the app, which runs on iOS and Android, you can quickly set up your account, tap in credit card numbers using your on-screen or physical QWERTY keyboard, and get an approval number. Square will take 3.5% of the transaction value plus 15 cents. If you swipe the card instead, using the Square Card Reader that plugs into your phone, Square will take 2.75% of the value of the transaction. After your customer electronically signs the receipt, the money is put into your bank account, usually within 24 hours.
Verizon is now offering the Square Card Reader for $9.97 which comes with a
$10 Square account credit
. Square normally hands out the reader for free, so this is the way they are doing it when you pick up the service from a retailer. There are no contracts, minimums or set-up fees involved with the service. Setting up the service is quick, painless, and you simply link your Square account with your bank account. We've seen Square all over locations where a seller is offering something that would be an impulse buy. Think about the vendors at Comic-Con. Heck, with Square, even the Sabrett hot dog guy on the streets of New York can use his Apple iPhone to ring up a couple of dogs. That is,
assuming his Apple iPhone hasn't yet been stolen
.
source: Square via
Engadget
Accepting Mobile Payments Comes Full Circle for Small Businesses: Rounding Out a Business with Square

For some small businesses, accepting credit or debit cards can be an expensive, time-consuming and complicated process.

Fortunately for small business owners, wireless technology can provide a simple solution to allow businesses of any size to expand payment options for customers. Using a mobile payment tool such as Square, businesses from boutique shops, to plumbers, to professional services, to salon professionals and independent contractors can accept credit or debit card payments using their smartphone or tablet.

Beginning on Jan. 31, the Square Card Reader will be available nationally at Verizon Wireless stores. Running on Android and iOS platforms, Square will sell for $9.97 and comes with $10 credit to a Square account. There are no contracts, minimums or set-up fees.

It takes just a few minutes for a merchant to set up Square. After the Square app is downloaded, the user completes a few quick sign-up steps, links the service to their bank account, and within moments, is up and running.

Transactions are completed with a swipe of the card on the Square Card Reader followed by the buyer's signature. The seller can email or text the receipt to the buyer. The seller pays a fee of 2.75 percent for swiped transactions and 3.5 percent plus 15 cents for sales that are manually keyed in. The funds are deposited in customers' bank accounts generally within 24 hours. Customers can also manage their Square account online at www.squareup.com.

Now merchants have a better chance to close the sale when a prospective customer doesn't have enough cash on hand, but truly wants the product or service.