Verizon goes BOGO on the Fascinate, second handset is free on contract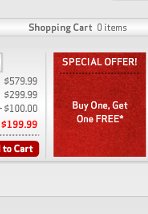 The nice folks from Verizon are surely aiming to move as much as they can of those Fascinates to clear up the inventory they ordered. In a rare for the carrier promotion, buyers of the
Samsung Fascinate
have the option to order another one, which, after two separate $100 mail-in rebates, comes up to free.
The phone with the 4" SuperAMOLED screen is available online to order right now, but we are fairly certain that this deal will be in stores tomorrow as well. You have to sign up a two-year contract including $29.99 data plan on each handset, and give Verizon $400 upfront, before it mails you those two $100 rebates, but in the end you will have a Samsung Fascinate that cost you just $100 each. Or, alternatively, you can just wait for Amazon to
do its magic trick
and slash the price in half.
Samsung Fascinate Specifications
source:
Verizon