Verizon chimes in on proposed FCC spectrum auction limitation proposal
16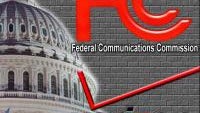 The FCC will be voting on a proposal made by Chairman Tom Wheeler about
limiting sales of spectrum
in next year's auction once a certain amount has already been won by any particular bidder.
The idea is to limit the two gorillas in the room, Verizon and AT&T, from grabbing too much and not leaving enough for the "little guys," T-Mobile, Sprint, and a host of regional and rural carriers. Some regulators fear that the smaller carriers would be far too outmatched in any bidding war.
AT&T threatened to
sit out of the auctions
, though tempered that position a little later. The point stands however, since the current licensees, mainly television stations are voluntarily giving their spectrum up for the auction, may express concerns if they feel they will not get what they think their licenses are worth.
Now Verizon has met with some of the commissioners at the FCC and expressed its concerns, bluntly.
"Verizon stressed that it would be perverse and unjust for the commission to adopt auction rules that subsidize some large multinational companies at the expense of their competitors. T-Mobile and Sprint are large corporations with established, well-financed corporate parents. They and their parent corporations are more than capable of paying substantial amounts to acquire spectrum in the incentive auction if they choose to do so."
It is not known how things will go down with the commissioners' vote, set to take place at their meeting on May 15th, but if the vote is made to impose such limits, the FCC will then have to draw up new rules as to how such limitations would be triggered.
The rules on the auction are already being noted as highly complex, and it is because of those conditions that the auction was pushed to 2015. Among those conditions are a mandate from Congress that at least $7 billion be allocated from the auction of 600MHz spectrum to fund a national public safety network, FirstNet. That is a significant amount of overhead being imposed on the auction.
The 2008 auctions of 700MHz spectrum, which was divided in to five blocks out of 62MHz of spectrum total, took in roughly $19 billion. The auctions to be held next year will have blocks totaling between 60 and 80MHz of spectrum. Since the 600MHz block is considered to be even better than the 700MHz block, current license holders may be expecting to see the auction clear a number well above $19 billion after funding FirstNet.
sources:
Reuters