Verizon asking Obama to veto any device ban that might result from the mobile industry patent wars
17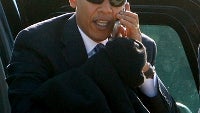 President Obama has the power to overrule the ITC's verdicts, so Verizon's chief counsel Randal Milch is circulating a chart
asking for him to intervene
if some of the devices on it get banned from import in the US due to all the patent litigation going on in the industry.
To put things in perspective -
the International Trade Commission became the go-to body on patent infringement lawsuits
and counter-lawsuits for the mobile industry, since the regular courts are fairly bound by a Supreme Court decision in an eBay case from 2006. The precedent made it harder to win an import ban on infringing products there, with the most likely settlement being cross-licensing of patents, or cash in hand.
While the whole ordeal reminds us of kids collecting baseball cards, the
recent ban Apple won on the Samsung Galaxy Tab 10.1 in Europe
, which actually resulted in
the German market currently missing Samsung's latest tablet
, is an example what harm these lawsuits can bring to a company, instead of all focusing on innovation and fair competition, as has been the intention of the patent system when originally created.
Patent-trolling won't go overnight, but if the President steps in to stop the litigation madness in the mobile industry, which is currently one of the few growth areas, this would make anyone think twice before they rush to ask for a product ban quickie to the ITC. Regular courts' decisions will still matter, though, but the battles there are long and protracted.
source:
WSJ