Verizon announces the Samsung Galaxy Camera, available Dec. 13th
20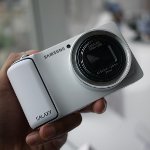 We suspected Big Red would be picking up this Android powered camera, based
solely on documents revealed by the FCC
. Hundreds of components make their way to the regulatory body even though there may be no plans to introduce those products in the US.
One month after AT&T announced
availability of the Samsung Galaxy Camera, Verizon has is following suit with an LTE enabled version of the device. It features the same specifications, 16MP camera with a 21x optical zoom, powered by a quad-core 1.4GHz processor and Android 4.1 Jelly Bean rounding up the most notable items. Outside of that, the Google Play store is available and this camera will do just about everything, except make phone calls.
order online December 13th for $549.99.
It will be available in white and an
exclusive "Cobalt Black"
color. Adding the camera to a Share Everything plan is being promoted for only $5 per month. The color choice is nice and ability to share it with your data plan is convenient, but the price is $50 more than what AT&T is charging, and we have seen
even lower prices
on other sites for limited periods of time.
No doubt it is a nice device. If you are on the fence,
check out our hands-on video
and let us know if the Samsung Galaxy Camera is on your list this winter.
source:
Verizon Wireless