Verizon announces first LTE handset - the Apple iPhone Landscape LTE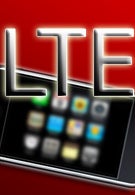 Well guys, it's been a long time coming, but believe it or not, it's finally here. Verizon has officially announced the upcoming availability of the iPhone in its lineup. But wait, it seems like this won't be just a CDMA version of the well-known smartphone. It will be the carrier's first ever LTE handset, and the company has also revealed that its variant will have a completely different design than what we've seen previously. The new design language is said to bring a whole new user experience to the customers. Prepare to meet the
iPhone Landscape LTE
edition! Completely identical in the specs part, the iPhone Landscape LTE will have... um, a landscape-oriented form-factor and interface, and of course will be able to take full advantage of the App Store. A Verizon spokesperson has admitted that they have always envied AT&T for the number of apps they can offer to their customers.
But this has finally come to an end. If everything goes according to plan, in a few months every Verizon user will be able to enjoy Doodle Jump (in landscape orientation), and actually surf the internet with blazing-fast LTE speeds!
(Note from the editor: The iPhone Landscape LTE, just like the iPhone 3GS, will not support multitasking, battery replacement or Bluetooth file transfer.)
via: PA Wireless Hoaxes corp.