Verizon adds more new contract customers than AT&T during Q2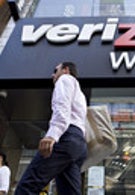 Thanks to the omnipresent green robot, Verizon reported a stronger second quarter earnings report than expected by analysts. The carrier added 665,000 net new contract customers in the period, topping AT&T's net addition of 496,000 contract signing customers despite the latter's launch of the iPhone 4 on June 24th. Verizon is the top carrier in the U.S. based on the number of people using its pipelines, followed by AT&T. Verizon's CFO, John Killian, feels that his company has more potential for growth. He said, "We still see a lot of upside here now that we're in a much better position from a device line-up perspective."
Revenue in the wireless sector rose 3.4% year-over-year to $16 billion while the average revenue per user grew 1% to $51.56. Data plan sales rose 19% to $17.85 per customer. Wall Street analysts were jumping all over each other to praise Verizon. Christopher King from Stifel, Nicolaus said, "They're doing far better than AT&T both from a marginstandpoint and a net-add standpoint," said King, "While there'sno question that Verizon would like to have the iPhone all elsebeing equal -- it's still the premier handset out there -- it'snot a necessity for them." Sanford C. Bernstein's Craig Moffett gushed, "They continue to run the most profitable wirelessbusiness, and by a wide margin."
For the company as a whole, the second quarter brought profits of 58 cents a share before taking account of the costs of lay-offs. While that was lower than the prior year's 63 cents a share in profits. Wall Street was expecting profits of 56 cents a share. Verizon's wireless sector was boosted by the strength of its Android line-up which should get a kick in this current quarter from the strong launch of the Motorola DROID X which was released on July 15th and remains sold out at some Verizon stores.
Motorola DROID X Specifications
|
Review
source:
Bloomberg
,
TimesNewsline