Verizon Wireless struggles through poor first quarter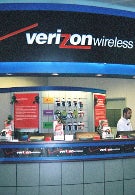 Verizon Wireless had a poor first quarter. Things were so bad for the nation's largest carrier, that the number of new postpaid contract accounts plunged by 67% from the prior year's quarter. For the first time ever, the company was forced to rely on the lower paying pre-paid customers brought in by resellers to make up for the drop in customers signing contracts. And while 1.5 million new customers were added in the three months, bringing Verizon's leading total to 92.8 million (AT&T is second),
1.3
million of those came from resellers such as TracFone that offer discounted services to students and those facing belt tightening during times of economic woes. Because those accounts bring in fewer dollars, as Bernstein analyst Craig Moffet puts it, "The pressing question, of course, is whether these gains are beginning to cannibalize Verizon's far more lucrative post-paid business." For the first quarter, Verizon Wireless added just 423,000 new customers on contract. The average Verizon mobile customer spent $50.95 monthly, the same as last year. Churn was 1.07% and while Big Red usually has the lowest such figure among U.S. carriers, the number for the last quarter matched the churn rate produced by AT&T. The numbers might pick up next quarter as Verizon is expected to launch the HTC Droid Incredible, its latest Android model. The handset has been the recipient of outstanding reviews with many calling it the best Android cellphone currently available.
source:
WSJ
,
NYTimes