Verizon Wireless starts paying the piper - $4.5 billion dividend payment goes to Vodafone
11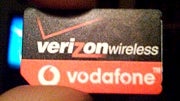 Vodafone is the third largest mobile carrier in the world after China Mobile and Singapore's SingTel, serving about 340 million subscribers around the globe, but the largest one by revenue. It holds a 45% stake in Verizon Wireless, while the rest is owned by Verizon Communications Inc.
Due to the high costs incurred while Verizon was upgrading its 3G and LTE networks in the past few years, Vodafone hadn't been paid for its stake in VZW since 2005, because Big Red was mostly paying off debt for that period.
Investors were getting increasingly wary of the situation, but now they have a reason to pop the champagne bottles. Verizon is finally debt-free, and will pay out part of its profits as dividend to the owners Vodafone and Verizon Communications - $4.5 billion goes to Voda, while $5.5 are reserved for the majority stake-owner - come January 31st 2012.
The news sent Vodafone's shares way up on a down day at the FTSE exchange, since the majority of the money will be distributed among shareholders, Voda announced, plus Verizon will probably be doing that on a regular basis from now on. Vodafone also sold its stake in China Mobile for a cool $6.5 billion last year, and it seems that now it has a steady income stream to pay off debt, or upgrade and develop its own network around the globe.
source:
WSJ