Verizon Wireless reported to have 400,000 Palm handsets ordered
This article contains unofficial information.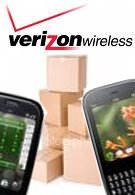 Earlier
reports
have hinted to over 600,000 Palm units being amassed and ready to ship to Big Red – that figure was down from the original 800,000 due to units not meeting Verizon's equipment verification process. In any case, now it looks like a tipster has informed BGR that both the Palm Pre and Pixi have begun surfacing in Verizon's inventory systems. Additionally, the same source has been heard saying that Verizon ordered roughly 200,000 units a piece for both the Pre and Pixi units – a grand total of 400,000 awaiting to be shipped out. It's really unclear as to how or why this figure is down heavily from the speculated original 800,000. We'd surmise that maybe Verizon is taking the conservative approach on their bid on selling enough Palm units. If it does well, we're sure that Big Red will continue to order units as the demand for them increases.
Palm Pre Specifications
|
Review
(Sprint)
Palm Pixi Specifications
|
Review
(Sprint)
source:
BGR