Verizon Unleashed phones appear at some Best Buy stores
20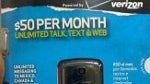 So far unannounced, Verizon Unleashed is expected to be Big Red's new no-contract service offering unlimited talk, text and web for $50 per month. While the handsets available for Verizon Unleashed aren't exactly your high-end dual-core Android models, a couple of them have been outed at Best Buy.
So far, the phones spotted at the big box retailer include the LG Accolade and the Pantech Caper-both priced at $79.99. For those with a smaller budget, the LG Cosmos featurephone is priced at $39.99. We still await the official introduction of the service by Verizon.
The package shows how easy activating the service is. The first step is to install the battery, then you press send, and enter your zip code and you are done. The packaging also prominently mentions that the service allows texting to Mexico and Canada, so if that is where you send most of your messages, Verizon would no doubt like to unleash this new service on you.
source: Engadget (
1
), (
2
)