Verizon Moto X getting Android 4.4 KitKat starting today
49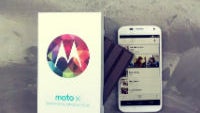 We have given Verizon a lot of crap over the years because the carrier always seems to have long delays when it comes to Android software updates. The issues were so bad that Google has apparently given up on the carrier when it comes to Nexus devices. But, we have to give Verizon credit this time around, because the Moto X update to Android 4.4 KitKat is hitting the carrier first. We don't know when the soak test for the 4.4 update went out to Verizon Moto X users, but we just heard about it
yesterday
; and now, according to Motorola, the update will begin rolling out to Verizon users starting today.
As you would expect from Android 4.4, the update brings the massively improved Dialer (one of our favorite features), as well as the more powerful photo editing tools, emojis, the new Hangouts app that integrates SMS, and UI tweaks. But, on the side of Moto X specific enhancements, the update does have more fixes for the camera. There is no word on image quality fixes, but the camera app on the Moto X will get new options to simply drag your finger on screen to change the focus or exposure when taking a picture.
This is an incredibly fast turnaround for Motorola given that the Nexus 4 and Google Edition devices haven't even gotten the Android 4.4 update yet. Motorola says that the update is rolling out "in phases" starting today, but hasn't said how long the total process will take.