Verizon CEO: We hope our 4G rollout will help us earn the iPhone
22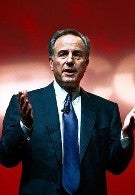 Speaking at an investors' conference, Verizon's CEO Ivan Seidenberg told straight out that the company is moving to
tiered data pricing
in "four to six months". That coincides with the first LTE rollouts in major cities across the country.
Mr Seidenberg added that he hopes the move to 4G will entice manufacturers to develop innovative devices that take advantage of those fast data speeds. Asked about the iPhone's upcoming availability on Big Red, he said "I can't speak for Apple". Verizon's CEO hopes that the 4G rollout will convince Apple to bring the iPhone on its network, and that his company has to "earn it".
Not to rain on anybody's parade, but that more or less dashes any hopes to see the mythical Verizon iPhone this coming January. After all, Verizon has built a compelling portfolio of smartphones around Android already. It looks like the move to tiered data pricing is because of them, and of future LTE devices on its network, not necessarily because of the iPhone's imminent arrival.
That talk kind of seals the deal on AT&T reaching the end of its contract with Apple as the exclusive iPhone carrier until 2012. It certainly seems like those
three million CDMA iPhone units
, reportedly being built by Pegatron to go on sale in January, are headed to a certain Chinese carrier, not Verizon.
source:
WSJ