Ustwo Games infographic showcases success, and cost, of beautiful Monument Valley game
7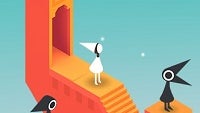 There is little arguing that Monument Valley is one of the more enchanting games to hit the mobile space in some time. The puzzles, as visually engaging as some are difficult, are a tribute to the surrealistic works of Dutch artist M.C. Escher.
Monument Valley is a game, it is a puzzle, and it is a work of art. Still, many people groaned at the price of admission for what was initially only 10 levels of game-play. The expansion of Forgotten Shores was available late last year as an in-app purchase.
Such is the life of small development teams though, ad-supported games can usually stem the costs, but for games of this quality, the ad model was not a desirable option. Who wants a banner splashed across such a pretty landscape?
The gang at Ustwo Games put together an infographic showcasing the success of the game as well as what it cost to create in the first place, and some of the numbers are quite surprising. The first iteration of Monument Valley took over a year to build, and cost over $850,000. The Forgotten Shores expansion took a little over half a year, and was over half-a-million-dollars in the making.
Good thing the game has proven to be such a success. Installed on over 10 million unique devices, Monument Valley has brought Ustwo Games revenues of a bit over $5.8 million, 81% of which has come from iOS users (Google Play and Amazon pick up the rest).
The US, China, UK, and Germany are the biggest markets where Monument Valley has taken off. About half of all players that start it, finish it. Perhaps the most stunning statistic, more than 2 million totems have been drowned, have you no heart?
If you are not familiar with the game, check out
our review of Monument Valley
.
source:
Ustwo Games