Users would have preferred the Optimus G over the Galaxy S III, if there was no marketing (Poll results)
28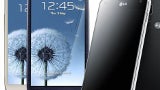 Last week
we asked you
whether you would prefer the
Optimus G
over the
Galaxy S III
, in case marketing wasn't a factor, and it turns out that most of you would indeed prefer LG's offering.
If this was just a normal comparison, we're sure that the GS III would have had the upper hand. After years of building Android handsets and constantly expanding its market share, Samsung has managed to establish itself as a prominent phone maker that people are willing to trust. However, the same cannot be said about LG. Although Samsung's neighbor has managed to out some decent devices like the
Optimus 2X
or
4X HD
, it's been having a tough time competing with Sammy's enormous marketing presence. If we rule this out, LG's latest and greatest does seem to be more attractive to people than the GS III, which is believed to be one of the best, if not the best Android phones in recent history.
It's obvious that the Optimus G is a newer device (it hasn't even launched globally yet), so it's kind of normal for it to sport a beefier specs sheet. When we did a similar comparison, which focused solely on specs, the Optimus G has a great advantage over the GS III. Still, with this new comparison, we're also factoring in stuff like the software experience, and this time we see some much more balanced results, with the Optimus G leading be a much smaller margin. This leads us to the thought that while smartphone users would definitely prefer the monster specs of the Optimus G, LG still has a lot of work to do when it comes to its custom UI, which it uses to differentiate its Android smartphones software-wise. At least for now, it looks like Samsung's TouchWiz is the more appealing interface for users. Let's see if the new stuff that LG has done for the Optimus G will be able to shift things a bit in its favor.
Here's how our readers voted: