Updated iPhone developer's agreement has placeholder with reference to January 27th launch
This article contains unofficial information.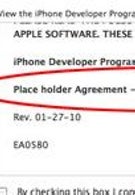 The online licensing agreement that would-be iPhone developers need to sign, went live yesterday with a placeholder that referred to a January 27th launch. This could be a slip that shows that Apple will be introducing a new iPhone OS later today. Or, it could be an intentionally placed, perfectly created gaffe made to confuse everyone just hours before the Cupertino based company reveals its newest creation. On the agreement, it says "Place holder Agreement-Need to update this for the 27th launch". Launch of what, we wonder. Unless you have been in a coma for the last few weeks, you know that at an event planned for later today in San Francisco, Apple could show off a tablet, possibly introduce a fourth-generation iPhone, and maybe debut iPhone OS 4.0. It is the latter announcement that the placeholder seems to confirm, and late Tuesday, as we
reported
, McGraw-Hill CEO Terry McGraw revealed to a CNBC audience that Apple will be debuting the tablet later today. That would leave the introduction of a fourth generation iPhone still up in the air.
source:
Apple
via
MacRumors
,
Engadget