McGraw-Hill CEO lets the tablet out of the bag-on television!
9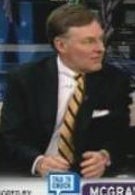 McGraw-Hill CEO Terry McGraw told CNBC viewers tonight that Apple will be releasing a tablet tomorrow. At the same time, he also noted that it would use the iPhone's OS and that the tablet is going to be terrific. Here's the whole picture. CNBC's Erin Burnett asked the publishing exec about the Apple tablet. He replied, "They'll make their announcement tomorrow on this one… And the Tablet is going to be based on the
iPhone
operating system and so it will be transferable. So what you are goingto be able to do now is we have a consortium of e-books. And we have95% of all our materials that are in e-book format…The tablet is goingto be just really terrific." We have the video for posterity, thanks to BGR, and the fun stuff starts at about the 2:49 mark.
source:
CNBC
via
BGR