Updated: Samsung US counters Apple with its own PR stunt
37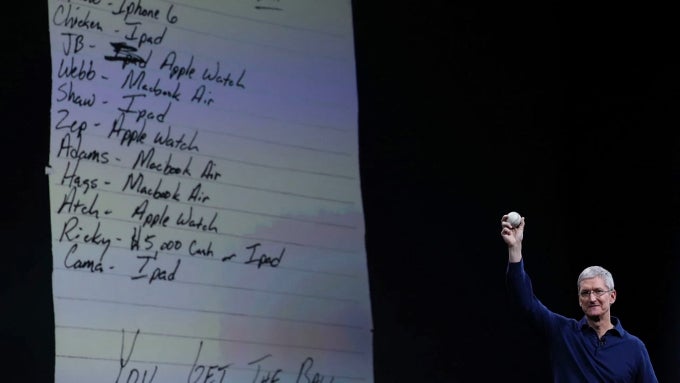 Update
:
PR agency MWW has contacted us on behalf of Samsung to let us know that the Trevor Bauer post was

not

a Samsung initiative. Some things about the whole story still seem a bit strange, but, for now, we will just consider it a trendy inside prank played among Indians team members.
By now, if there is anything we've learned about PR campaigns and celebrities is that the two
rarely mix well
. This is especially true when it comes to stars posting seemingly off-hand tweets about the company they are supposed to promote. Yeah, this one is another "
Twitter fail
", but it's so juicy that we couldn't help but giggle, even if we are pretty used to seeing the "via Twitter for iPhone" signature tag on so many promos before.
So, back at Apple's WWDC, Tim Cook shared a "story" – it was about how baseball player Brandon Moss of the Indians recently hit his 100th home run. His teammates decided to prank him and hid the ball away, intending to hold it as ransom (a 100th home run is priceless personal memorabilia for an athlete, after all). Moss' teammates had prepared a list of Apple products that each of them wants, and only upon receiving the devices would they give the ball back. At the end of the story, Tim Cook showed the ball and said that Apple will happily "pay" the ransom and give Moss his souvenir.
Truth or fiction? We can't be sure. If it's a marketing ploy, it's a well-conceived one – it doesn't hit us as anything overused or annoyingly cliché. If it's a true story – good move from Apple to swoop in and capitalize on the situation, shifting it to a PR ploy.
We can't however sing any praises for Samsung US's PR unit. A recent Tweet from Trevor Bauer – pitcher for the very same sports team – claimed that another Indians' athlete's souvenir ball is being held for ransom. Apparently, rookie Francisco Lindor recently had his first hit and if he wants to keep a memorabilia from the event, he'll have to pay some of his teammates. What's the ransom you ask? A bunch of Samsung products, of course!
So, is it real or is it fake? Well, if we give Samsung the benefit of the doubt and look at the situation idealistically – sure, we could be witnessing a small "prank war" within the Indians team, where some are Apple fans, while others are Sammy enthusiasts. So, when the former did their Apple-products-for-ball stunt, and were actually promised to get their wishes, the latter may have decided to try and do the same.
Now, let us take these pink goggles off for a second and take a look at the situation with the full knowledge that marketing is a thing that exists in the world. It's very hard to believe that Samsung PR had nothing to do with this tweet. We are looking at a very similar situation involving members of the very same team that was mentioned at Apple's WWDC. And the cherry on top of the cake is, of course, the fact that the ransom tweet was sent "via Twitter for iPhone"! We can't help but wonder – when will they learn?
Still, we figured that it's possible that Mr. Bauer may be an iPhone user that wants to have a
Galaxy Note Pro 12.2
tablet (as per the list) – nothing too abnormal about that. So, we checked the Tweets from other names on that list, to see how much of Samsung supporters they are. Well, Mr. Danny Salazar may want a Samsung laptop and a
Gear Fit
, but we can't help but wonder – how is he going to pair the Fit to his iPhone? Mr. Corey Kluber asks for a Galaxy S6 edge, though, his tweets do not reveal him as an Android user, too (though, an
iPhone 6
to
Galaxy S6 edge
switch, especially if it's for free, doesn't sound too unreal).
So, what do you think we are witnessing here? Another embarrassing marketing flop, or an actual split in tech fans in the Indians team?