Update to Motorola Assist allows you to send a text using your voice
4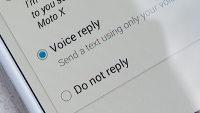 Motorola Assist is an app available for newer Motorola handsets. It prevents calls from waking you up at certain times of the day and can also keep your phone silent when you're in a meeting. Having your phone ring at the wrong time is quite embarrassing. Another feature allows texts to be read to you while driving, allowing you to keep you eyes on the road and not your phone. In addition, Motorola Assist will automatically resume play of the last audio track you were listening to over Bluetooth or the headset jack, when it detects that you are driving.
An update to the app includes a very useful feature. Now, in addition to listening to your phone read you your texts, it will allow you to send a text using your voice. This way, your messages get out without you having to divert your attention from the road. In addition, the update improves how well Motorola Assist detects that you are driving, using Bluetooth. And while you are driving, Motorola Assist will now launch your favorite music app.
The Driving Mode capabilities are available for the
Motorola Moto X
,
Motorola DROID Ultra
,
Motorola DROID Mini
and the
Motorola DROID MAXX
. The update is waiting for you at the Google Play Store.
source:
MotorolaAssist
via
AndroidCentral