Update coming soon for Motorola DROID 3
10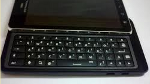 Remember the Motorola DROID 3? You know, the handset that was launched before the Motorola DROID BIONIC and is the third generation model of the phone that started Androidmania. Well, there are
a couple of little tweaks that need to be taken care of with an update
, including an odd issue with the battery and the addition of Google Talk with video.
An e-mail was sent out to some Motorola DROID 3 owners, informing them about the soak-test that is coming soon for the phone. According to the message, a few thousand DROID 3 owners will receive the update in what Verizon calls a "
pre-launch soak
". After the updates are disseminated, Verizon will
then wait two days to make sure everything is fine
. The carrier stresses that what they will be sending out for the soak-test is not a beta version, but is the final version of the update unless the soak-test reveals a problem. Verizon expects to have the update sent out to all Motorola DROID 3 owners this month.
If you are a Motorola DROID 3 user, let us know if you are one of the lucky few who have received the "soak-test" and
tell us about any changes that you've noticed on your device
by simply dropping some comments in the box below!
source:
DroidLife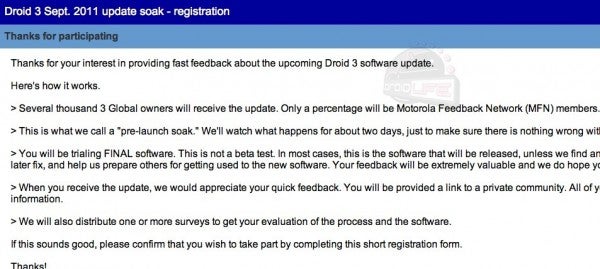 This e-mail to Motorola DROID 3 users informed them about the upcoming soak-test