Upcoming Nokia Superman phone focuses on quality selfies?
20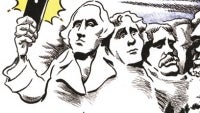 According to The Verge, one of Nokia'sunannounced upcoming smartphones (the one bearing the codename Superman) isgoing to be the best Lumia for selfies. The phone is currently beingdeveloped with a 5-megapixel camera gracing its front. This issubstantially better than most phones' ho-hum 1 to 2MP snappers interms of megapixel count, but HTC did beat Nokia to the figurativerace with the HTC One M8's 5MP front-facing camera.
Additionally, Chinese vendors havealready managed to put 5MP, even 8MP front cameras in their products,and last week we heard that the iOcean X8 is coming with theespecially welcome addition of auto-focus, so Nokia won't be gettinginnovation accolades this time. Regardless, it's nice to see morevendors raising the quality of their front-facing shooters.
We also learn that the Lumia Supermanwill feature a 4.7-inch display and is shaping up to be anotherWindows Phone 8.1-based mid-range offering. It is expected to comelater this year. In addition, we're waiting for an entire serving'sworth of Nokia devices codenamed Goldfinger, Ara, Leo, Moonraker,Onyx, Peridot, Tesla, and Vantage. It is unclear, however, whetherthey will bear the Nokia logo.
source: TheVerge