Upcoming 9.7-inch Samsung Galaxy Tab S2 rumored to be just 5.5 mm thick
13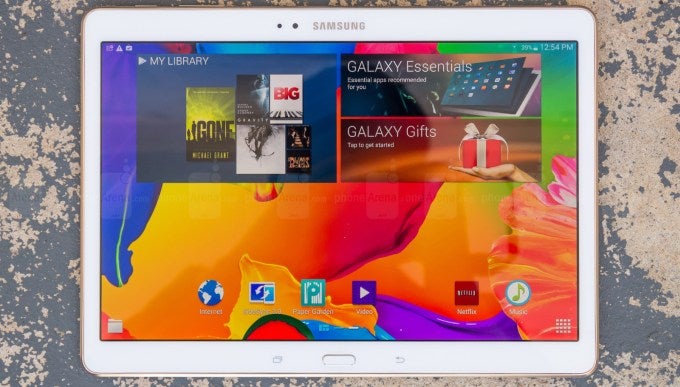 The current-gen Galaxy Tab S tablets come with a thickness of 6.6 mm
Over the past couple of months,
multiple sources suggested
that Samsung is working on a
crazy-thin Galaxy Tab S2 line-up
of tablets with Super AMOLED displays. Building up on this info, a fresh rumor originating from popular leakster @OnLeaks claims that the 9.7-inch version of the Galaxy Tab S2 will measure just 5.5 mm across its waist.
Previous rumors claimed that Samsung is working on a 9.7-inch Galaxy Tab S2 prototype that measures 237.1 x 168.8 x 5.4 mm, but OnLeaks claims that the tablet will be slightly less compact, at approximate measurements of 237.17 x 169.58 x 5.5 mm. This doesn't mean that any of these rumors are off, as the manufacturer is probably working on multiple prototypes. OnLeaks also said that the Galaxy Tab S2 will come with a design that's inspired by the
Samsung Galaxy S6
, which could translate into a metallic chassis and a glass back, but nothing is certain at this point.
Whichever measurements turn out to be accurate, it looks like the 9.7-inch Galaxy Tab S2 could be launched as the world's slimmest tablet (some believe that the 8-inch version of the tablet will be slightly thicker due to its size limitations). At the moment, and the
Dell Venue 8 7000
holds this title with a waist of just 6 mm, followed by the
Sony Xperia Z4 Tablet
at 6.1 mm.
Although the first-generation
Galaxy Tab S
series arrived with display sizes of 8.4 and 10.5 inches, both with an aspect ratio of 16:10, sources suggest that Samsung will shake things up a bit with the second generation. The Galaxy Tab S2 is said to be offered in 8-inch and 9.7-inch flavors, both using a 4:3 aspect ratio, much like Apple's iPad series.
Recommended Stories