Galaxy Tab S2 8"/10" specs leak pegs them as the thinnest tablets, with 5.4mm metal frame
51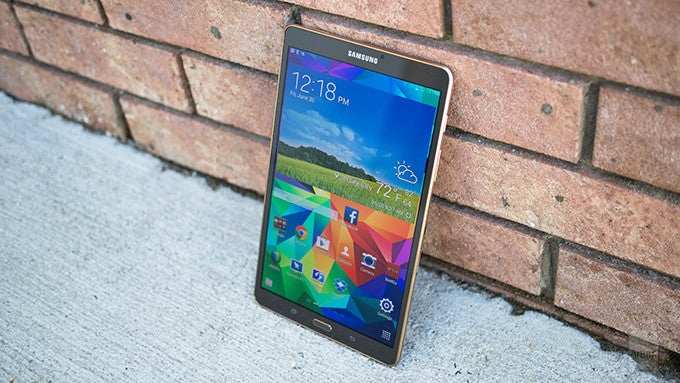 More excellent tablets with Super AMOLED displays are coming our way from Samsung, it seems, and these are
united under the Tab S 2 title scheme
. This means that we will be seeing the second generation of the Tab S line announced, and now more details about the thin and powerful slates with unique display technology have leaked out.
Dubbed Tab S 2 8.0/9.7, the tablets popped up earlier in the week with the revelation they will be thinner even than the
iPad Air 2
, but now we are getting the full specs sheet, thanks to some "trusted insiders". The two new Samsung tablets will apparently move to a 4:3 aspect ration, with 2048×1536 pixels of resolution, instead of the 2560×1600 dots on the current crop. No biggie, as there's still plenty of pixel density to go around, plus this format is more comfortable for reading and other typical slate activities.
The other important change will be in the chipset that will push all those pixels. The tablets are apparently being tested with Exynos 5433 processor, but might switch to Samsung's newest Exynos 7420, because of its 64-bit architecture, Lollipop, and the alleged TouchWiz 64-bit rewrite. To this, Samsung will add its own LTE modem, a Cat.6 one, which means speeds up to 300 Mbps will eventually be supported. the smaller model will sport 3,580 mAh battery, while the 10-incher will allegedly be equipped with a 5,870 mAh, though these capacities aren't set in stone yet either. Both will appear with 3 GB of RAM and 32 GB of storage out of the box, and will have 8 MP rear shooters.
Now, for the cherry on the top, here are the exact dimensions of the two slates, compared with both the iPad Air 2, and the iPad mini 3:

Notice something? Yep, the Samsung Galaxy Tab S 2 8.0/9.7 will be the thinnest tablets that ever existed when announced, at the breathtaking 5.4mm, and will sport metal frames at that, if the rumors pan out. This specs/chassis combination will right all wrongs with the first edition, and given the unique for Samsung AMOLED tablet panel tech, should give every slate out there a run for their money.