Unlocked Sony Xperia Z5 Premium (international variant) now available in the US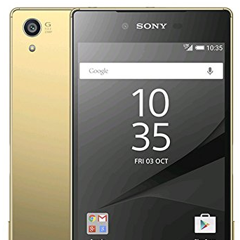 While Sony didn't say anything regarding the release of its Xperia Z5 Premium in the US, the handset can already be bought via two online retailers: Amazon and Expansys. More exactly, it's the international variant of the Z5 Premium that can currently be purchased, which means there's no US warranty included. If that's not a problem, the new smartphone can be yours for as low as $776 at Amazon, or $779.99 at Expansys.
Both the single SIM and dual SIM versions of the Xperia Z5 Premium can be bought from Amazon and Expansys, and both have LTE support - but they'll only work on AT&T, T-Mobile, and other GSM carriers (no love for Verizon and Sprint).
Officially announced in September, the Sony Xperia Z5 Premium is the world's first smartphone to sport a display with 2160 x 3840 pixels (4K). However,
only media is rendered in 4K
, with the screen - a 5.5-inch panel - acting as a 1080p one during normal usage. Other highlight features of the Z5 Premium include a water-resistant body, fingerprint scanner, a 23 MP rear camera with fast auto focus, octa-core Snapdragon 810 processor, 3 GB of RAM, 32 GB of expandable storage space, and a 3430 mAh battery.
Are you planning to buy a Sony Xperia Z5 Premium?
sources:
Amazon
, Expansys (
Xperia Z5 Premium single SIM
,
Xperia Z5 Premium dual SIM
)