Unique Microsoft Surface tablet hits eBay, profits will be donated to charity
9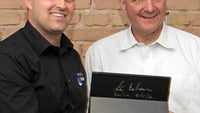 In Germany, a
Microsoft Surface
tablet with Windows RT retails for about 480 euro. This particular one-of-a-kind unit, however, will set you back a bit more, although it is too early to say what the exact figure will be.
That is because the Surface that you see in the photos was signed by Steve Ballmer himself during a developer's conference that took place in Berlin several weeks ago. The device is now being auctioned on eBay for charity, with the current bid standing at 610 euro, yet expected to go higher before the December 5 deadline is reached.
All proceeds will be used to organize a Christmas party at the Charité, Campus Virchow-Klinikum, Berlin for children diagnosed with cancer. In addition, each child was asked to make a wish, and as many of them as possible will be fulfilled using the profits from the auction. The Microsoft Surface is brand new and will be shipped for free, along with all accessories it comes with.
Want to back up the notable cause? Then check out the auction at the link below and don't hesitate to spread the word!