Unannounced LG G3 Stylus makes a cameo in promo video, ready to take on the Note 4
19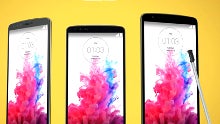 We got tipped before that an
LG G3 Stylus
is on the way, and now LG itself slipped and revealed the largest member in the G3 trio, while making a commercial for the smallest. In the
G3 Beat
video ad below (that's the "mini"
G3 s
for China), we can clearly see a G3 Stylus listed at the end, which seems to be larger than both the 5.5" G3, and the 5" G3 Beat.
Rumor has it that the G3 stylus will feature the 5.9" display of the
G Pro 2
, but will be laden with a stylus, and will arrive around the time that the
Note 4
gets issued, as a direct competitor. Now, whether this monster will be China-bound, or will see the light of the day in the rest of the world, remains to be seen, but given how LG mimicked the Galaxy line with the trio, the G3 Stylus might very well be outed globally, too. Mum's the word on the rest of the specs, but, given the release timing will be in the second half of the year, it's reasonable to expect a Snapdragon 805 processor to be put inside, but whether or not it will be powering a Quad HD resolution display is anyone's guess at this point.