Ultra Mobile outs Data My Way: control loading speeds and combat those pesky autoplay vids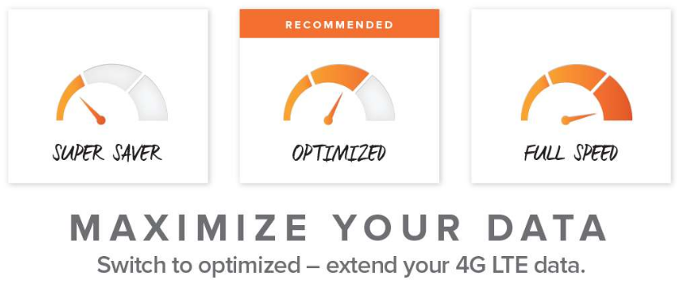 Ultra Mobile, a virtual operator that piggybacks off T-Mobile's Un-carrier network, has been growing leaps and bounds lately, as its tailor-made offerings have become ever more enticing the few years of existence. It caters to those who call abroad frequently, as it offers cheap or free international calling and text, so it is very popular among Hispanics and expats living in the US.
Its newest offer is called Data My Way, and lets Ultra Mobile and Univision Mobile subscribers pick three tiers - "
Super Saver
," "
Optimized
," and "
Full Speed.
" The premise is that you might hit play on a YouTube video inadvertently, or have one of those annoying autoplay vids start out of the blue, and in the few seconds you are trying to stop them, your data allotment flows freely in preloading parts of the video you won't ever watch.
In order to prevent that, you might want to choose the "Optimized" tier, which would play videos in resolutions optimized for mobile screens, and load it at portions that are closer to real-time viewing. The "Super Saver" load speeds are for those who don't use much multimedia in their daily Internet routines, while "Full Speed" will keep things unrestricted as they are. The new Data My Way option of Ultra Mobile will default automatically to the "Optimized" option, and you can choose one of the other two from your account management portal.
Ultra Mobile Launches 'Data My Way™' To Optimize The Power Of 4G LTE For Its Customers
Ultra Mobile and Univision Mobile Customers Can Now Control Download Speeds to Make Better Use of Limited High-Speed Data

COSTA MESA, Calif. and NEW YORK, Dec. 19, 2016 /PRNewswire/ -- Ultra Mobile, a nationwide mobile carrier developing first-of-its-kind mobile phone services with unlimited international calling and text, announced today the launch of 'Data My Way,' a new feature that empowers Ultra Mobile and Univision Mobile subscribers to optimize streaming media on their mobile devices and get the most value from their 4G LTE data. Using Data My Way, customers can set their preferred loading speeds and conserve their monthly 4G LTE allotment by ensuring that streaming media like YouTube videos load with resolutions optimized for mobile screens and at rates closer to real-time viewing.

Mobile subscribers utilizing Data My Way choose between three data speeds — "Super Saver," "Optimized," and "Full Speed" — to best suit their available data and media viewing habits. With "Optimized" selected, users have seen their 4G LTE data last up to 20 percent longer, which may have otherwise been spent on preloaded media that never gets watched or loading large-format media files meant for viewing on larger screens. Selecting "Full Speed" will allow subscribers to download or upload content with no restrictions, while the "Super Saver" is ideal for subscribers with minimal data plans who primarily use mobile data for less data-intensive web activities, such as using an email client.

"For anyone who's ever streamed a few seconds of a video on their mobile network before closing it out, chances are that much more of the video file was actually preloaded and still counted against their data plan," said Chris Furlong, Chief Product Officer at Ultra Mobile. "For the majority of people who don't have unlimited 4G LTE data, instances like these can take a major bite out of your monthly allotment. Rather than try to upsell people, Data My Way is Ultra Mobile's solution to help our customers get the full value of high-speed data they're already paying for."

Data My Way is immediately available for Ultra Mobile and Univision Mobile subscribers, accessible via the Account Management portal. Optimized and Super Saver are set to 4G speeds and users are automatically set to Optimized, and can toggle between the different speeds as often as they wish via Account Management.

Focused on serving the nation's foreign-born population, most impacted by the high cost of international calling, Ultra Mobile has built its brand around pushing forward tech and software innovations that drive value in mobile communications for its users. Data My Way continues Ultra's dedication to delivering the most competitive offerings in mobile telecommunications that further empower its community.

To learn more about Ultra Mobile and Data My Way, please visit https://ultramobile.com/features

About Ultra Mobile
Founded in 2011, Ultra Mobile is a prepaid nationwide carrier that focuses on delivering innovative, cost effective mobile voice, text and data services for people living in the United States who regularly call or text internationally. Its international services reach over 200 international destinations. The company's mission is to provide convenient and affordable solutions that connect people with their extended families, friends and colleagues living around the world. In 2015, Ultra Mobile was ranked #1 on the Inc. 500 as the fastest-growing private company in the United States. Ultra Mobile is co-headquartered in New York City and Southern California, with more than 150 employees based in USA, Europe and Asia. The company supports its customers in English, Chinese and Spanish. In February 2016, Ultra partnered with the Univision Mobile brand, to better serve one of the fastest growing demographics in the country, Hispanic Americans. For more information, visit www.ultramobile.com.