Ubuntu Touch looking smooth in newest video running Mir
17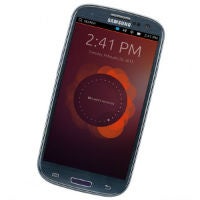 Ubuntu Touch is scheduled to be ready for distribution on October 17th. We've shown you some of the polishing work that has been done recently with adding in a
tutorial
for the swipe gestures and
over-the-air system updates
. Today, we're seeing a performance video that is looking quite smooth, which is to be expected, but what makes it more interesting is that this is pure Ubuntu running its new Mir display server.
This is important because Mir is a completely new display server that has just been added in with Ubuntu 13.10. It is also important because this is pure Ubuntu here, and it is no longer using an Android surfaceflinger or anything like that. This is the performance that Canonical has been aiming for, and it looks quite good. The video isn't that long, but it gives a good idea of what to expect.
We're just over a month away from Ubuntu Touch being ready for prime time, and finally getting to see what sort of apps have been developed for the platform (which is the real question surrounding it all). After that, it'll be time for Canonical to finish the tablet optimizations and docking capabilities for Ubuntu 14.04.