Ubuntu Touch now includes a walkthrough tour of the OS
7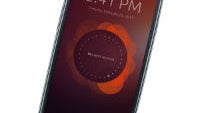 In case you had forgotten with all of the news about the upcoming iPhone and Note III announcements,
Ubuntu Touch
is almost ready to go. The OS has been on an acceptable level to be a daily driver for a while now, but the first finished version of the OS is planned to be ready in October along with Ubuntu 13.10 (October 2013).
Ubuntu Touch is basically good to go right now, and the work from here on is mostly polish. Today's daily image shows that off nicely by adding in a walkthrough tour of the OS for first time users. The walkthrough gives a quick and easy way to learn the edge gestures of the platform - swiping in from the right to unlock the device, from the top to get to various settings and notifications, and from the left to get the launcher bar.
Each step of the tour has the edge in question lightly pulsing to help guide you through. It's a nice quick walkthrough that will only take about a minute to complete, and after that it's onto exploring the rest of the Scopes in the platform.