UPDATED:Mystery BlackBerry 8600 spotted on film
1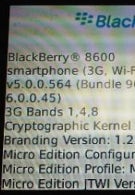 A picture of an "about" screen belonging to a mystery BlackBerry device has been found. The BlackBerry 8600 is a 3G device that is equipped with Wi-Fi and frequencies that match up with those of T-Mobile in the States. One would think that the 8600 would be the replacement for the 8500, but that honor is supposed to belong to the 9300, which T-Mobile and other carriers are expected to launch in a few months. We
have seen
the latter model on video, and have
reported
that it would be sporting RIM's new WebKit browser.
But what about the 8600? We cannot see that much of the phone in the photo, but we can tell it has rounded corners and what appears to be an optical trackpad. Since it is running the BlackBerry 5 OS, we can assume that it has 256MB of RAM (The new BlackBerry 6OS requires 512MB of RAM) which would be indicative of a low end device. This is the first time we have seen this model, so if it does go into production, there will be more pictures and information to follow.
source:
BerryCN
**UPDATE**
The good news is that the 8600 is indeed a real BlackBerry device and despite only having 256MB of RAM, there is a chance that the phone will have the new WebKit browser. The reason we know all that is because the 8600 was actually renamed the 9300. So, Scooby and the Gang have solved another mystery. It wasn't Farmer Jones wearing a mask after all, just RIM playing musical chairs with the model numbers.
source:
BerryReview