Verizon to launch the Tour in July and the Palm Pre in early 2010?
17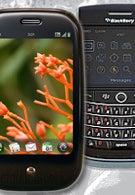 The last time we bothered you about the much-rumored
BlackBerry Tour
was when we informed the smartphone was to
come out in mid-August
. However, another of our tipsters claims now the Tour may become available about a month earlier - sometime around
July 13
. The reason for his statement is that sales consultants have been e-mailed and asked whether they would want to carry the
BlackBerry Pearl Flip 8230
or the Tour, starting on the above-mentioned date. What's more, our source also informs that e-mails about the
Palm Pre
have been sent as well. Similarly to what we've
previously heard
, it seems the Pre will launch on the carrier at the beginning of next year.
Meanwhile, Lowell McAdam, Verizon CEO, has said that customers of the carrier will be able to enjoy devices like the Palm Pre, the BlackBerry Tour and
Storm 2
"over the next six months or so".
BlackBerry Tour 9630 Preliminary Specifications
Palm Pre Specifications
|
Review
Thanks go to our anonymous tipster.
source:
BlackBerryCool