UK court sides with Samsung, says its tablets don't really look like iPads and won't be banned from sale
45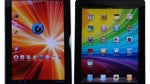 UK's legal system has sided with Samsung on the design patent infringement lawsuit brought on by Apple about the similarities between its iPad, and Samsung's Android tablets, like the
Galaxy Tab 10.1
,
7.7
and
8.9
.
The court has found that there are enough differences between the slates and the iPad, so as not to issue a sales ban on Samsung's devices in the UK. The Koreans didn't manage to achieve the same verdict here in the US, as
their Samsung Galaxy Tab 10.1 was banned for sale
in the land of the free.
Samsung issued a statement where it details exactly which Apple claims the court has found invalid and insufficient for a product ban:
Samsung had requested this voluntary trial in September 2011, in order to oppose Apple's ongoing efforts to reduce consumer choice and innovation in the tablet market through their excessive legal claims and arguments. Apple has insisted that the three Samsung tablet products infringe several features of Apple's design right, such as 'slightly rounded corners,' 'a flat transparent surface without any ornamentation,' and 'a thin profile.'

However, the High Court dismissed Apple's arguments by referring to approximately 50 examples of prior art, or designs that were previously created or patented, from before 2004. These include the Knight Ridder (1994), the Ozolin (2004), and HP's TC1000 (2003). The court found numerous Apple design features to lack originality, and numerous identical design features to have been visible in a wide range of earlier tablet designs from before 2004.

Equally important, the court also found distinct differences between the Samsung and Apple tablet designs, which the court claimed were apparent to the naked eye. For instance, the court cited noticeable differences in the front surface design and in the thinness of the side profile. The court found the most vivid differences in the rear surface design, a part of tablets that allows designers a high degree of freedom for creativity, as there are no display panels, buttons, or any technical functions. Samsung was recognised by the court for having leveraged such conditions of the rear surface to clearly differentiate its tablet products through 'visible detailing.'

Samsung welcomes today's ruling by the High Court, which affirms Samsung's commitment to protect its own intellectual property rights while respecting those of other companies. Samsung believes Apple's excessive legal claims based on such a generic design right can harm not only the industry's innovation as a whole, but also unduly limit consumer choice.
Recommended Stories