U.S. stopped terror atack planned for New York City's subway in 2009 thanks to NSA phone program
42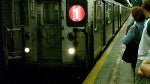 With civil libertarians and some congressmen complaining that the NSA's PRISM program is too broad and obtains too much information on individual American citizens instead of focusing on terrorists, reports came out on Friday that the plan might have averted a
huge terror attack
on U.S. soil. A senior U.S. official says that the program helped prevent a massive terrorist attack aimed for the New York City subway system in 2009.
On Thursday, the Republican chairman of the House Intelligence Committee, Rep. Mike Rogers, hinted that the program thwarted a major terrorist attack, although he said no more than that. On Friday, Senior U.S. intelligence officials said that a combination of the phone records program and other intercepts, helped prevent the attack on New York's subway from going into effect. The praise of the phone records program in stopping the attack comes despite court testimony that it
originally was an email
that led investigators to the plot.
Saying that he was recruited by an al-Qaida leader in Pakistan, Afghan-American Najibullah Zazi pleaded guilty in the 2009 plot. He had sent an email to a Yahoo email address seeking help with his bomb recipe. Both British and U.S. intelligence operations were monitoring this Yahoo account. This still doesn't explain how the phone program helped with the investigation unless Zazi's calls were being monitored, which would have helped the U.S. and U.K. know what he was up to. The problem with obtaining records about the incident is that the program is classified. The PRISM program
allegedly allows the NSA to collect metadata on calls
over the Verizon, AT&T and Sprint networks.
source:
AP