President Obama on PRISM: "Nobody is listening to your telephone calls"
53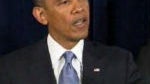 Yesterday, news broke that the National Security Agency has been using a program called
PRISM
to collect metadata on calls made on
Verizon
,
AT&T, and Sprint
in the U.S. The Director of National Intelligence (DNI) has already come out to comment on the report, but now we have word from President Obama himself, who says that "Nobody is listening to your telephone calls".
The president also wanted to confirm that the program "does not apply to U.S. citizens and it does not apply to people living the United States." While President Obama didn't offer anything as far as details on how the PRISM program works, and did not comment on allegations that the program is also pulling data from companies like Google, Apple, Microsoft, and Facebook. But, on the topic of the phone call data collected, the president said:
When it comes to telephone calls, nobody is listening to your telephone calls. That is not what this program is about.
As was indicated, what the intelligence community is doing is, looking at those numbers, and durations of calls. They are not looking at people's names and they're not looking at content. But, by sifting through this so-called metadata they may identify potential leads with respect to folks who might engage in terrorism.
The president also tried to quell the paranoia surrounding this story, saying:
In the abstract, you can complain about 'big brother' and how this is a potential program wrong amok. But when you actually look at the details, I think we've struck the right balance.
Also adding:
I think there's a suggestion that somehow, any classified program is a quote-unquote secret program which means that it's somehow suspicious. But the fact of the matter is, in our modern history, there's been a whole range of programs that have been classified.
None of this answers some of the more pressing questions about the program, and it still looks as though DNI James Clapper may have had the right idea when he said he would try to make some of the program declassified in order to prove that the public's civil liberties have not been compromised.
Visit NBCNews.com for breaking news, world news, and news about the economy
Recommended Stories