U.S. app stores had their biggest day ever on Black Friday as consumers spent nearly $76 million
13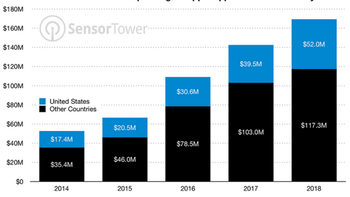 We already know from an earlier report made by Adobe, that
$2.1 billion in sales were made on smartphones during Black Friday
. But
a new report released today by Sensor Tower
reveals that U.S. mobile app stores set sales record exactly one week ago today. For example, on Black Friday U.S. consumers spent a record $52 million at the Apple App store, up 31.6% over last year. An additional $117.3 million was spent on App Store apps by iOS users outside the U.S. Combined, the total amount spent globally at the App Store on Black Friday was $169.3 million, an 18.4% gain over last year's figure.
Over at the Google Play Store, Sensor Tower estimates that U.S. Android users spent $23.9 million on apps during Black Friday. That means that a record-breaking $75.9 million was spent on mobile apps in the U.S. last Friday.
At the App Store, 68% of the revenue, or $35.4 million, was spent on mobile games. That was a 63% increase over the previous Friday. Sensor Tower says that the jump in sales was helped along by discounts on in-app purchases and bundles. Besides games, the App Store's Food & Drink sector did well on Black Friday with a 34% gain in revenues from the previous Friday. This category was led by the NYT Cooking app. And Sports apps saw their top line rise an impressive 49% over the previous Friday with ESPN: Live Sports and Scores leading the way.