Crazy new patent wars infographic helps you follow the action
15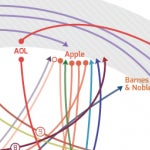 Who doesn't love to read about software patents, right? The problem is, even after you've learned enough legalese to try and follow the articles, it's almost impossible to keep straight who is suing whom, and who "started" the spat. Luckily the minds over at visual.ly have made a compact infographic that contains all this information and more.
Looking at the wheel o' litigation, there are several layers of information on it. The outer gray circle is companies that have shared or sold patents to other companies – think of it like arms deals: those companies are transferring patents to serve either as a deterrent, or in retaliation. Following the arrows in that outer ring shows that Google has
acquired the most patents
the last few years, which is no surprise because they were far behind the other tech companies in "ammunition" when the patent war began.
Looking over the graph it's clear that Apple and Microsoft have been the main instigators of the patent wars. Kodak also appears to be a major player but most of their lawsuits just
popped up recently
, most likely in a bid to avoid bankruptcy (or convince someone to buy their 1,000 or so patents).
If you want a better grasp on who is suing whom, take a closer look at the image above.
source:
visual.ly
via
mobilesyrup