U.K. data shows that iPhone users prefer Apple Maps to Google Maps, even with Waze
20
Earlier this month, we showed you data that supported the idea that
in the U.S., iPhone users prefer Apple Maps over Google Maps
. Over the last year, the number of iPhone users in the states supporting Google Maps has dropped from 35 million to 6 million. And 2 million of those were using iOS 5 or an older iOS build, which had Google Maps as the default navigation app.
According to comScore's European survey, 6.07 million U.K. Apple iPhone users were relying on Google Maps in October 2012. The number using Apple Maps was too small to measure having just launched weeks before. Overall, at that point there were 8.57 million iPhone users in the U.K. which means that Google owned more than 70% of the U.K. navigation market amongst users of Apple's iconic smartphone.
But things have changed drastically since then. As of September 2013, Google Maps lost 70% of its iPhone users in the U.K. as that number dropped from the previously acknowledged 6.07 million to 1.83 million. Meanwhile, the 4.24 million users that Google lost, combined with nearly 2 million new Apple Maps users to give the latter 6.23 million users amongst iPhone owners in the U.K. And despite the popularity of Google-owned Waze, in the U.K. the crowdsourced traffic and navigation app had only 186,000 members two months ago. In the U.K., adding the number of Waze users to Google Maps users on the iPhone, still results in Apple Maps leading its rival by a 3 to 1 margin among U.K. iPhone owners.
Just as in the U.S., the advantage given to Apple Maps as the default navigation app on iOS 6 and iOS 7 more than makes up for
the problems that Apple has had with its mapping capabilities
.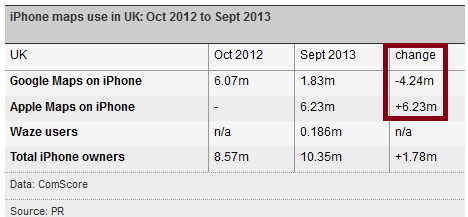 In the U.K., Apple Maps is trouncing Google Maps among iPhone users
source:
Guardian