Google Maps loses out to Apple Maps among iOS users
99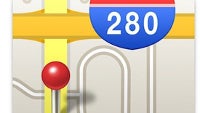 Despite
the embarrassing launch of Apple Maps last year
, Google has been unable to take advantage of the launch of half-baked software by the Cupertino based tech titan.
10 million iOS users installed Google Maps for iOS in the first two days
that it was made available in the App Store. And to this day, the app remains the 17th most popular free app on the platform. Still, Google Maps is losing mobile users when it should be adding them.
Recent stats from comScore reveal that after peaking in September 2012 at 81.1 million iOS and Android users out of a total number of 103.6 million with an iPhone or Android phone, Google Maps has since lost 23 million of them. As of September 2013, there were 58.7 million Google Maps users while 35 million were using Apple Maps. Out of 136.7 million people using both platforms, that means that Google Maps was being used by a less than overwhelming 43% of the combined users of the two most popular mobile operating systems. The data from September shows that 79% of Android users tend to use a navigation app versus 72% for iOS users.
According to MixedPanel, there are about 6 million iOS users that rely on Google Maps for navigation, with 2 million stuck with Google Maps due to their inability to update to iOS 6. That means that among Apple iPhone users, Apple Maps has an approximate 5 to 1 advantage over its main rival. And that is down sharply from as many as 35 million iPhone users that used Google Maps in September 2012.
Which brings up the reason why Google Maps was removed from iOS 6 in the first place. Apple claims that Google backed off on a promise to share its turn-by-turn navigation technology with Apple, which was one of the reasons why it started to develop Apple Maps. Certainly Apple Maps huge lead among iOS users has to do with the fact that it is the default navigation app on iOS 6 and iOS7.
Map data is important to both Apple and Google. Google uses it to provide relevant location based advertising while Apple uses it mainly for traffic forecasts for drivers. At this point, when it comes to money, it is more important for Google to have new users installing its navigation app. And considering that it has been losing iPhone users, Google has failed to take advantage of a major Apple failure to drive more people to its mapping service.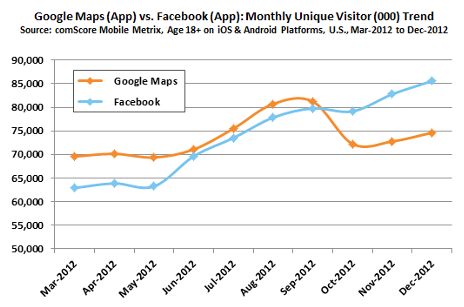 Google Maps starts to lose users as iOS 6 is rolled out in 2012
source:
Guardian
via
MobileBurn