Typo fights back, says BlackBerry has no sales that it could impact with its product
31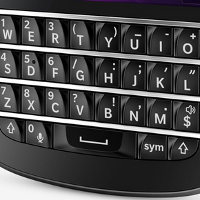 Now that BlackBerry and Typo will be seeing each other in court
, Typo has some unflattering words to say about the beleaguered Canadian manufacturer. Typo, which developed a snap-on QWERTY keyboard for the Apple iPhone, is being sued by BlackBerry because of the accessory's stunning resemblance to the keyboard on the
Blackberry Q10
. Typo responded with a 26 page argument explaining why the product should not be blocked from sale by the injunction that BlackBerry is requesting.
Typo's filing lands a punch to BlackBerry's solar plexus. It states that BlackBerry's patent claims are invalid, and even if they were valid, the company won't suffer any serious harm because there are no sales to be affected by Typo. Ouch! Looks like Typo's legal team read our story detailing how
the Canadian manufacturer had a 0% market share
in the U.S. smartphone market during the fourth quarter, according to at least one research firm.
Inside the 26 pages, Typo states that BlackBerry is seeking a monopoly on keyboards for any device. The filing pointed out that QWERTYs with a similar layout as the one being claimed by BlackBerry as its design, have been around since the 1980s. Typo adds that its product is available from its website, costs $99, and is made for the iPhone. BlackBerry phones are sold from the BlackBerry website, cost $549 and require a carrier. "
No consumer will be confused
," said Typo.
"No one looking to buy a BlackBerry phone, because of an alleged 'resemblance,' would buy a case with a physical keyboard instead. Typo keyboards are sold on Typo's website, cost $99.00, and are for people who already own an iPhone. BlackBerry phones are sold on its own website, cost $549.00, and require activation from a cell phone carrier. No consumer will be confused."
-Typo
Typo also revealed that it spent $1.4 million developing the product, and has sold 4000 of them thus far at $99 a pop. The company has the ability to produce as many as 10,000 units a month.
To win an injunction against Typo, BlackBerry has to prove to the court that it could win the case, that it suffered "irreparable injury" that outweighs the damage Typo would suffer from an injunction, and that banning the product would be in the public interest. Typo, of course, argues that BlackBerry fails to meet any of these conditions.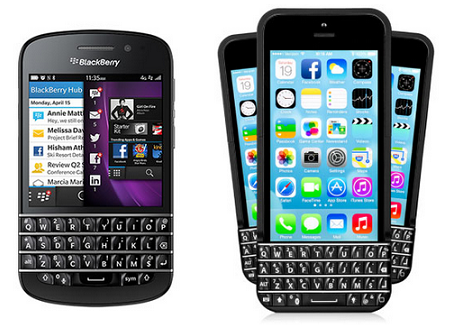 BlackBerry Q10 (L) and an Apple iPhone wearing the Typo keyboard
source:
PCWorld
via
Crackberry