Two videos of the Nexus One surface
This article contains unofficial information.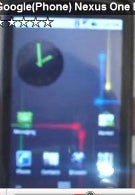 With all of the excitement revolving around the coming introduction of the Nexus One, two new videos have surfaced relating to the device. The first is a review by someone who claims that if a Google employee takes a picture or video of the handset, he/she will be fired. The reviewer has very positive things to say about the phone, from the speed of what he believes is the Snapdragon processor under the hood, to the "cool" background of the display. He calls the handset the best Android phone ever, running the
2.1
OS build. Later on, he says it is "The best phone that I have ever tried in my life." The "Cool" thing he says, is that he does not have a data plan but can still activate the phone, unlike the other Android models out now. Don't let us ruin the fun for you. Check out the rest of the review and figure out a way to get the "Golden Ticket" so you will be able to buy one at launch. The second video shows a series of still shots of the phone and follows with some demo shots that came from the Nexus One's own camera.
HTC Nexus One Preliminary Specifications
source:
PointGPhone
via
AndroidandMe