Two people fined $800,000 for spreading spam text messages in the U.K.
5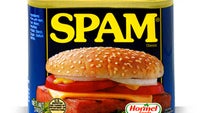 Chances are that if you own a cell phone, you've been subjected at least once to unwanted text messages containing advertisements, otherwise known as spam. These texts are annoying, to say the least, and opting out of such promotional schemes isn't always easy. Yet in the U.K., authorities are actively fighting against mobile spam by imposing some pretty hefty penalties – half a million pounds (roughly $807,550) is what two people have been fined after sending out millions of ad-containing messages to cell phone users.
This is the first case of anyone being fined by the U.K. Information Commissioner's Office for sending out spam via text messages. Among the violations that lead to the authority's decision are the lack of a sender's name in the texts, and that people could not unsubscribe by texting back "STOP" to the sender's number. What makes matters even worse is that upon attempting to opt out, the subscriber's number gets automatically added to a new list that is then being sold to other mobile marketers. Oh, and by the way, texting ads to people who have not subscribed is illegal in the U.K., so these latter companies might be getting a visit from authorities pretty soon.
The spammers have 28 days to state their response in attempt to prove that sending those millions of texts did not violate the law. Failure to do so would result in the culprits becoming liable for the $800,000 fee. Eight other companies might be next on the list for conducting similar practices.